Life is full of hardships. We all know that. We all know that trial and tribulations are just a way of life.
My life has been really challenging the last couple of months. It started in July when our laundry room flooded. This was the post I wrote about my laundry room flooding. We were without a laundry room for about a month BUT then we were able to get the best laundry room makeover out of it!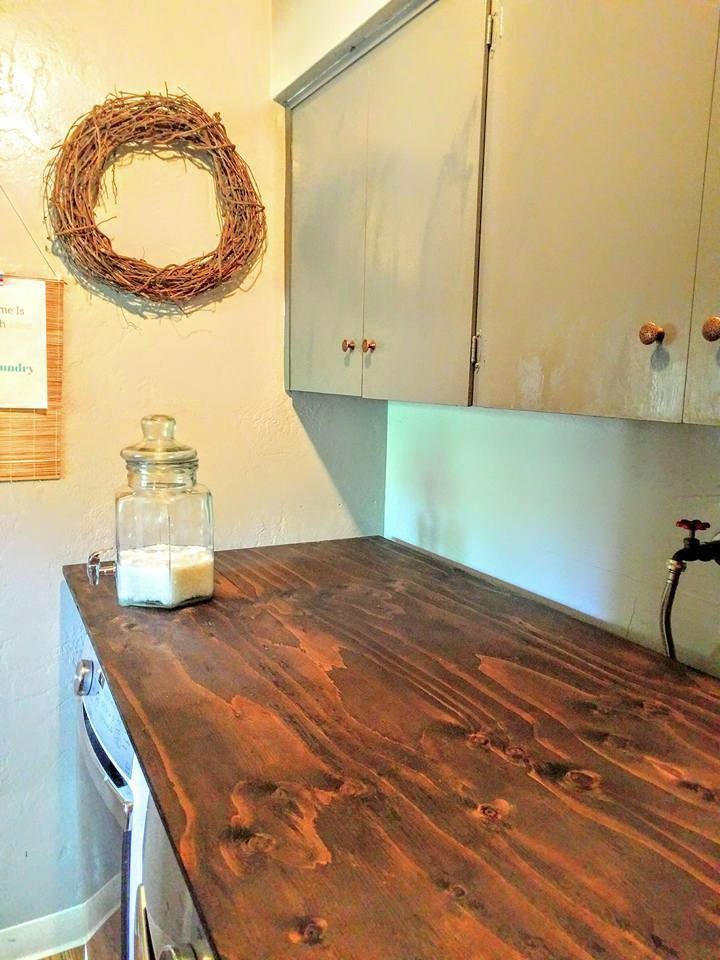 After our laundry room flooded I was given "callings" in my church. These callings are pretty much roles that we take on (without pay) and we do on our own free time. I love my church SO much that I accepted these callings. They were working in the nursery (Daycare during church) which was hard because my kids are in the nursery. SO I literally have NO time away. And then I was also given the Cub Scout Den Mother. So every Thursday I "babysit" 8  year old boys and plan activities for them. Last night somebody cut themselves with a pocket knife after I told him multiple times we were not supposed to be using pocket knives. 
On C's first birthday in August we were enjoying some cake and presents and then I started to see huge lumps all over my sons head. We brought him to the hospital. We spent 4 hours in the hospital. I am so glad that it was nothing. He apparently gets swollen lymph nodes when he gets sick. But it was very scary and we had to probably spend some money on that little outing.
I applied to two different jobs in order to help with the financial load of my family considering that my blog wasn't doing what I wanted it to be doing. I applied to an online professor job and a virtual assistant job. And then I didn't get the virtual assistant job and I was just thinking that maybe I didn't get that job because I would be getting the online professor job. I then got the news that I wasn't going to be the professor either. I was heartbroken.
I then decided to rent out a little space in a nearby store where I would sell my furniture and stuff to make extra money. I took out a loan from my mommy because I didn't have enough money to start the company. I did it for two months and found out that I wasn't selling anything! I was probably out $300. It was devastating. 
I was working really hard on Paper Floors in my house and I was hoping they would work out but they never did! I spent over three months trying to make these work, but it ended up being really chaotic, messy and frustrating. 
And so then I was stuck with crappy crappy floors! Then my husband and I got pregnant. I was so excited to be adding another little baby  into this world! I told him and he was so excited. 
Then shortly after I miscarried. It was awful. I went to the hospital and waited for several hours knowing there was nothing they could do. We were hoping that it was just a fluke.  I watched my numbers go down the next couple of weeks by going to the doctor and getting my blood drawn.
My husband felt so bad for how distraught I was that he decided to buy me new floors!
We went out and purchased about $800 worth of floors taken out of our savings and I was super excited to get the floors in.
0
Maybe life was turning around for me! I spent about 2 hours putting in the brand new floors when I was paying attention to the end of the board and I missed the block and I smashed my finger! It was the worst physical pain I had been in awhile. I was up all night long dealing with a heartbeat in my finger. The next morning I went to the urgency care and I got drugs to help with the pain.
I finished the rest of the floor that my husband couldn't finish and painted the walls with a broken finger.
In October I got pregnant again and I was so excited!
And I lost the baby at 5 1/2 weeks. It was so emotionally and psychically painful. I spent the next little bit going to the doctor to make sure that my levels went back down. This miscarriage was VERY physically painful which left me emotionally numb for a little bit.
On top of all this I have been dealing with TMJ (Temporomandibular Joint Disorders) for the last few years, but this past year has been extremely painful. As of right now my jaw has been locked for about three weeks now. Three weeks ago I went into the Emergency Room because my jaw had been locked for 30 hours and I was stressing out. They told me to go and get a night guard. So I went and got a night guard from Walmart and it made it SO much worse! Pretty much what happens to my jaw is that I clench my jaw during the night and day and my joint muscle in my jaw gets really swollen and then gets out of place. I am unable to put two fingers in my mouth at the same time.
I went into a dentist and I told them what was wrong. They got my jaw mold and they then told me it was going to be about $800. I couldn't afford that! Well of course we could…but I certainly didn't want to! Apparently it was so expensive because it is a medical expense and not a dental expense so I had to go in and go through my medical insurance. So they made me go through my primary care doctor for a referral for the Kaiser Portland TMD/TMJ clinic. So last Thursday I had to go in and get my referral. While I was in there they asked me if I wanted a pneumonia shot as well as my flu shot. I said, "yes." I jokingly grabbed my husband's hand and when the man gave me the shot I completely flinched. It was the WORST and most painful shot I had ever had! I immediately knew that I was going to have a sore arm.
That night I started feeling kind of sick at cub scouts. I went home and I told my husband that he could go to volleyball and just leave me at home. Right when he left I started feeling a little bit sick. I stood up and went to go get some water. As I was filling up my water bottle my head and body started getting really hot and I started feeling super light headed and sick. I ran to the bathroom and put my head between my legs. I crawled to my phone and tried to call Derek but he didn't answer so I called my mom. My mommy came over within 15 minutes and I just laid immobile on my bed.
On Friday I don't remember what really happened. I woke up in the morning and made a HUGE plate of food for my kids and went back to sleep. I literally slept ALL day and I have no idea what happened. I do remember at one point my toddler coming in and telling me that "C was outside!." I ran up and grabbed my baby from the back yard, put him to bed and then fell back asleep. I was shaking, and shivering with 101.6 degree temperature. I couldn't even look at my arm without it hurting. My arm was constantly thumping and  I couldn't sleep on my left arm at night.
Saturday I had a birthday party for my 93 year old great grandmother. And I don't remember much. I was peeing blood (sorry TMI) and I was so sick. I was trying to keep my fever down and trying to keep from freezing to death due to the high fever. It was horrible. I was achy and sore. I couldn't eat anything from my horrible jaw and I didn't feel well enough to eat anything anyways. We drove home and I slept for six hours. I was awake for about an hour and then fell back asleep. My husband was so helpful for watching the kids so I could focus on getting better.
On Sunday morning I woke up and I was feeling a little bit better, but I knew I wasn't doing even 50 %. My husband left in the morning because he needed to go to a business trip. A little bit after he left my hands and feet started feeling funny. At first they started feeling like they were tingling. And then I felt as if my hands and feet were actually growing. They were growing. I could see them swelling.  I got into shower hoping that my hands and feet would stop getting bigger. And then they all started turning red. Then I started getting rashes all around my body!
These pictures don't even give it justice! This is when the rash started. It got worse than this!
I then decided that I should probably go into the doctor at this point. So I was at the urgency care on Sunday morning while my mommy took the kids to church.
They gave me steroids. Apparently I was allergic to the shot and my body was fighting off the pneumonia that the shot gave me. It was a huge nightmare!
I took the steroid immediately and that night I was up ALL NIGHT LONG! I ended up having two all nighters in a row. And with my husband gone it was nightmare. Thankfully my mom is the most helpful person in the world and she came to help me a lot. And of course Day light Savings Time happened during this time as well. Perfect timing right?!
Then on one of the days I had to go to Portland to go to the TMJ clinic. Thankfully it was the only day that my jaw wasn't locked and so they were actually able to do a jaw mold with my mouth.
Derek came home on Wednesday night and I am in complete burn out. I am in mother burn out. I am so warned out and I can't even explain how tired I am.
I called my mom in a depression last night, because I am just so worn out and I need a vacation. Is it too much to want to just go away for the weekend on somebody else's dime where I don't have to think about money, kids, or the future? I would love to just enjoy the moment and do nothing!
I think we all can agree that I have had a tough run of luck. My family has been tried, pushed and I have almost reached my limit. But it could always be worse! It got me thinking. I am so incredibly blessed.
I have two beautiful children. I have two gorgeous boys that I was able to have without any problems. My kids came into this world with ease. I have an amazing husband who loves  me in spite of all of my thousands of faults. My husband and children are healthy and that is ALL I pray for. That is all I truly want. I have a wonderful home that keeps the rain away (most days) and it keep us warm and cozy.
I have a mother and a father who love me and are always there for Derek and I. Some families don't have their parents near and Derek and I are so lucky to not only have my parents near but have them SO involved in my life and my kids lives.  I don't have words to express how much I love and care for them!
I have this Gospel in my life that brings me joy in darkness.
What I have learned through my life that you can't feel joy and know what happiness is without feeling pain. And feeling joy after pain feels THAT much sweeter!
I have a few scriptures that have helped me through these trials and tribulations that I have been feeling.
1 Corinthians 10: 13 " There hath no temptation taken you but such as is common to man: but God is faithful, who will not suffer you to be tempted above that ye are able; but will with the temptation also make a way to escape, that ye may be able to bear it." 
Heavenly Father allows us to be tempted and allows us to feel pain. However, we are never given anything that we can't handle. We are stronger than we think we are. I know that the trials that I have been dealing with are only to make me stronger and that God wouldn't let me struggle if I wasn't strong enough to overcome.
1 Nephi 11:17 "And I said unto him: I know that he loveth his children; nevertheless, I do not know the meaning of all things."
Heavenly Father loves ALL of his children and I am no exception! I know that Heavenly Father loves me very much and that it is hard for him to see me in pain. I love my children very much and I hate to see them struggle, but there are some things I let them struggle with because he helps them build character and to go. That is what Heavenly Father is doing with me.
2 Nephi 2: 25: "Adam fell that men might be; and men are, that they might have joy."
Adam "fell" for the temptations of Satan in the Garden of Eden. Due to this transgression Adam opened up the doors for us to feel pain, but he opened the doors to feel happiness and joy. Life is such an amazing gift! We have the ability to have children, spouses, and beautiful families!
Esther 12: 27 "And if men come unto me I will show unto them their weakness. I give unto men weakness that they may be humble; and my grace is sufficient for all men that humble themselves before me; for if they humble themselves before me, and have faith in me, then will I make weak things become strong unto them."
We are given weakness so that we can be humble to Heavenly Father. We need Jesus Christ to make it back to our Father in Heaven. We can't do it on our own. I know that these challenges and weaknesses that I have are to keep me humble and to keep my eyes faced towards God.
Mosiah 4: 9 "Believe in God; believe that he is, and that he created all things, both in heaven and in earth; believe that he has all wisdom, and all power, both in heaven and in earth; believe that man doth not comprehend all the things which the Lord can comprehend."
I can't even begin to comprehend what Heavenly Father has in store for me. He has great things planned for me and I know that I will be blessed even more if I get through these trials with faith and gratefulness.
I could go on and on about all of the scriptures that can help me with these times. I know that I have great blessings in store for the future if I remain positive and faithful. I am truly blessed in my life. I have so much to be grateful for. I am one of the lucky ones.
I love my life. I love my children. I love my family. I love this Gospel.